Microwelders Butt Welding Machines
SUITABLE FOR VARIOUS MATERIALS
FERROUS RANGE
Type EH 1
WELDS WIRES 0.9-6.0 MM DIA
Type EH 2
WELDS WIRES 2.0-8.0 MM DIA
Type EH 3
WELDS WIRES 3.5-9.5 MM DIA
Type EHC NONE FERROUS
WELDS 0.9-6.0 MM DIA COPPER
& STRAND RANGE DIFFERS
OPTIONAL GRINDER
Type SG FERROUS
WELDS WIRES 0.30-1.0 MM DIA
Type SG2 FERROUS
WELDS WIRES 0.50-2.0 MM DIA
OPTIONS:
Type SG3 FLAT STRIP MODEL:
1.0MM-15MM WIDE:
0.50-UP TO 1.0MM THICK.
NONE FERROUS MODEL
WELDS ROUND WIRE 0.50-3.0MM
WHEELED TROLLEY:GRINDER.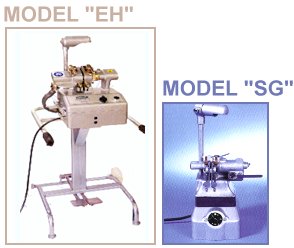 SIMPLE TO OPERATEE
ADAPTABLE FOR ROUND,
FLATS, SHAPED, SOME RINGS
STRAND & SECTIONS
LOW CONSUMPTION OF CURRENT
PORTABLE AND EASY TO HANDLE
LIGHT AND COMPACT
WELDING RANGE approx.
0.30MM-9-5MMDIAMETER
ELECTRIC GRINDERS FOR BURR REMOVAL
SPARE PARTS
REPAIRS/ RECONDITION
ALL MODELS: Built as 220/240 Volts 50/60 HZ : Single Phase
110 Volts Models are available
Lamba Welding Systems, Richmond +44 (0) 1748 850 292
Manufacturers of Wire Resistance Butt Welders.