Model SG 3BUTT WELDING MACHINES
BUILT AS A SPECIAL
Flat Strip Model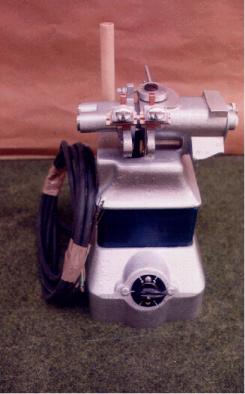 Welds approx:
1.0-15MM wide:0.50-1.0mm thick
Aluminum Model SG2AL
With different Jaws will:
weld dia wires approx 0.50-3.5mm
Can be built as a None ferrous Model:
WELDS NONE FERROUS: 0.50.3.0MM
Alternative clamp fingers
as Model SG1 & 2 for round wire.
Electrode/jaws can be made to suit
wire shapes, & sizes.
Height 50 cms,width 20 cms depth 20 cms.
K.V.A 1.5 : Weight 12 kgs
Options
WHEELED TROLLEY
GRINDER FOR BURR REMOVAL
DESIGNED AS A TABLE MODEL, STANDS ARE AVAILABLE.
The movement of the electrodes/jaws is controlled by enclosed parallel guides which ensure that the finest and heaviest wires are welded in alignment.
Pressure regulating control is done by marked graduations on an adjusting screw.
Spacing electrodes is done by operating the Eccentric lever marked for different wire gauges.
Regulation of the welding or annealing current by means of a 6-step heat switch.
Contact button & automatic circuit breaker are combined in a simply constructed unit. The contacts consist of tungsten pins and will operate for many years.
Lamba Welding Systems, Richmond +44 (0) 1748 850 292
Manufacturers of Wire Resistance Butt Welders.